It's always a fantastic feeling to be recognized for the work that you do. When we submitted one of our favorite interactive modules to be considered for the 18th Annual Communicator Award, we knew it was good, we just weren't sure if our peers would agree. To know that the module is clearly pegged as an award-winning interactive tool is extremely rewarding.
"The pool of entries we received for this year's Communicator Awards serves as a true testament to the innovative ideas and capabilities of communications and marketing professionals around the world. Each year our entrants continue to amaze by reinventing the ways we communicate and market in an ever-changing industry" noted Linda Day, executive director of the IAVA.  She added, "On behalf of the entire Academy, we congratulate this year's Communicator Award Entrants and Winners for their passion and dedication.  We are humbled to be given the opportunity to recognize such amazing work."
The winning module was developed as an educational tool for the US Army Corps of Engineers, Charleston District's Regulatory Program.
Click here to see the module in-action.
While our entire team worked on delivering this project, we want to give a special shout out to the following integral people:
Graphics and Illustrations: Josh Smith and Adriana Mazariegos
Interactive Developer: Richard Komatz
Owners: Jose & Maria Elena Luya
Created for the US Army Corps of Engineers
USACE Contributors: Brice McCoy, Tracy Dotolo, Laura Boos, and Allison Monroe
For more information about the Communicator Awards, please visit www.communicatorawards.com.
The results are in for the 32nd Annual Telly Awards and the team at Multi Media is so excited to be a 2011 Bronze Telly Award Winner! The Telly Awards honor the very best local, regional and cable telev

ision commercials and programs, as well as the finest video and film productions and work created for the web.
The winning video, "Alien Invaders", is a fun educational piece on Aquatic Invasive Species and the importance of aquatic plant control in Florida.  Adam Alvarez, editor, decided to use a 1950s B movie treatment as the creative foundation for the video.  Adam shares, "I saw an opportunity in the 'Alien Invaders' story to have some fun with the overall style and theme.  Between the script and the illustrations, I was inspired to drive the video in this direction and I couldn't be more proud of the end result."
"It's always very rewarding when the client acknowledges your hard work and feels that you've exceeded all their expectations…which is always our goal." said Jose Luya, President and CEO of Multi Media Marketing.  Jose continued to share, "It is another really great accomplishment when your peers validate your work.  This award is a validation from the industry that our team delivers quality multimedia solutions."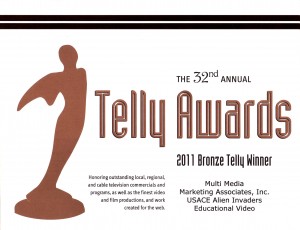 While our entire team helped to produce "Alien Invaders", we want to give a special shout out to the following integral people on this project:
Creative Direction & Editor: Adam Alvarez
Graphics: Josh Smith and Adriana Mazariegos
Camera Operator: Tony Morin
Talent: Lincoln Potwin
Owners: Jose & Maria Elena Luya
Created for the US Army Corps of Engineers
USACE Contributors: Adam Tarplee, John Kilpatrick, and the many biologists involved from the Jacksonville District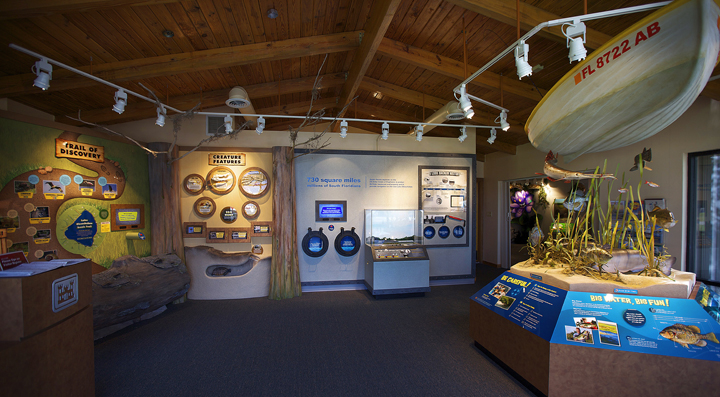 Multi Media Marketing Associates, Inc. (Multi Media) is proud to announce that the Lake Okeechobee Visitor Center Rehabilitation Project has been named the 2011 American Recreation Coalition Beacon Award Recipient. Multi Media was selected by the U.S. Army Corps of Engineers, Jacksonville District to complete the Lake Okeechobee Visitor Center Rehabilitation Project.
The project remodeled two visitor centers (one in Stuart, FL and one in Alva, FL) and an information center (Clewiston, FL) with interactive educational exhibits on invasive species, native wildlife, water resources management, and lock operations. The exhibits also explained the complex interrelationship between the Corps' actions to balance the environment, agriculture, water supply, recreation, and flood risk management.
"The Multi Media team works hard to deliver exceptional work for all of its clients, and to be recognized for that work is just an added bonus," stated Jose Luya, Multi Media President and CEO. "The Corps' Natural Resource Management project managers, rangers, and volunteers were such a pleasure to work with and it will always be a project our team holds dear."
From concept to completion, Multi Media provided project management, audiovisuals, multimedia, exhibit planning, design, and fabrication. Multi Media managed all the services needed to fulfill the project requirements including labor, materials, travel, construction, video production, photography, content, graphic design, web development, outdoor interpretive signage, and exhibit planning. Multi Media partnered with ThemeWorks, Inc. to develop the concept and fabricate  the visitor center exhibits.
"Working closely with the exhibit developers on all the moving parts and seeing our designs come to life was very exciting," stated Adriana Mazariegos, graphic designer at Multi Media.  Josh Smith, another graphic designer adds, "It was an amazing experience to work on a project like this! Educating visitors on being stewards of our environment is a message close to my heart and we worked hard so that it wouldn't get lost."
"The recognition of the 2011 ARC Beacon Award demonstrates our commitment to the project. Our goal was simply to deliver a compelling visitor space that merged advanced media solutions and creative design," stated Kyla Gordon, VP of Project Management.
The Beacon award ceremony will be held on June 13 in Washington, D.C. during Great Outdoors Week 2011.  For more information about the Visitor Centers, visit www.owwvisitorcenters.com.  For more information about Multi Media, visit www.multimediamktg.com.