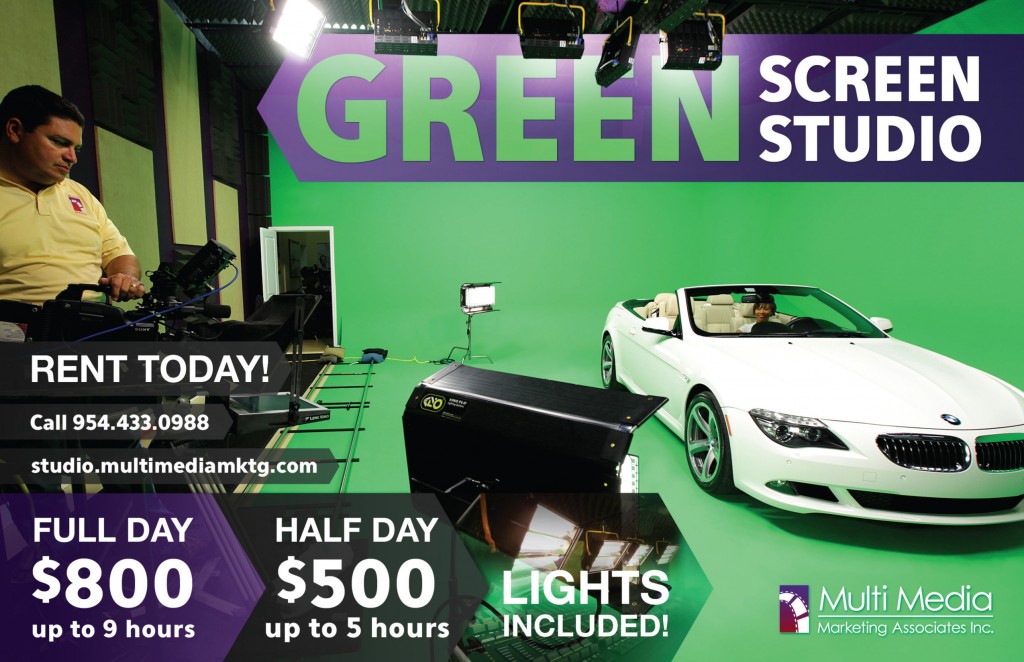 Clients are taking advantage of our new full-day and half-day rental rates. The 1,200 sq. ft. seamless cyc wall in our Green Screen Studio is a great space to create commercials, training videos, and music videos. The bay door into the Green Screen Studio provides easy entry access for cars, bikes, and boats. It is also the perfect virtual studio space to hold castings, photo shoots, and more.
Behind the Scenes VIDEO: http://youtu.be/FGUaLmzVa9w
The Green Screen Studio rental packages also include use of our private conference room, kitchen and bathroom, convenient parking and excellent customer service.
For more information, call (954) 433-0988 or visit the website.
Our production team just wrapped a two-day shoot, with five actors, for an outreach video that depicts the permitting process, told from the perspective of four permittees and one host.  The fictional permittees featured in the video ranged from a banker to an architect to a home owner.  The vision is to depict these characters in their own respective environments (i.e. office, home, etc.).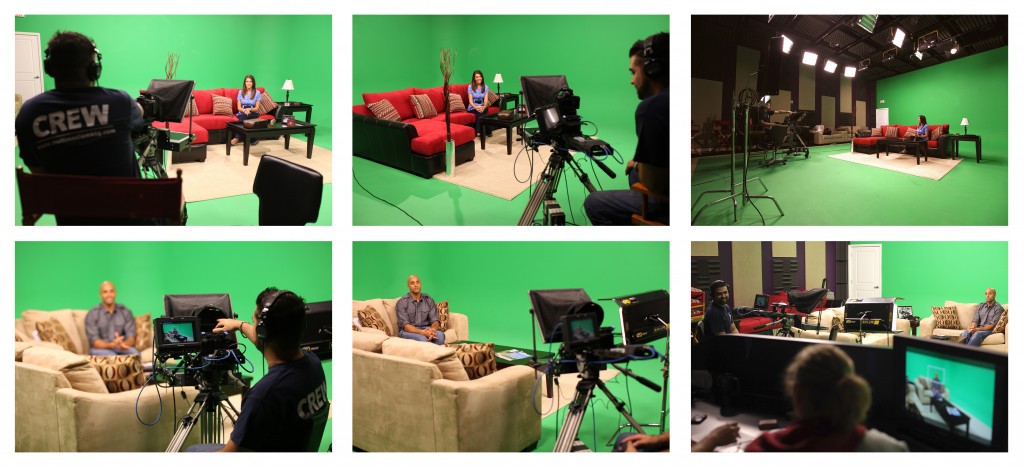 To achieve this, the actors were shot in both our production offices and in our 1,200 square foot green-screen production studio.   The office scenes were shot in our staff offices; while the living room scenes, with real furniture and props, was set-up on our green screen.   By shooting in this manner, it allowed us complete control of the lighting, sound and ultimately the environment.
Specifically with the green screen set-up, the final footage of the living room will be composited into an actual designed room, created in our 3D software by our designer, which will allow us to change the depth, the color, and the layout of the room, as we desire.
It's really nice to have the creative freedom associated with an in-house production studio.
This past August, we told you about our fully equipped studio in a post titled Going Green! Well, Multi Media is extremely excited to introduce a brand new website for our in-house studio. Brian and Adriana, our web developer and talented graphic designer collaborated on the site and focused on a user-friendly layout that features the services and equipment we have to offer. With an interactive slideshow gallery right on the homepage, you can get a peek into our studio. For a closer look, you can click over to the interactive floorplan which features a 360° panoramic view of our studio and amenities.
"We want to give people who have the need for a studio a chance to see the space,  amenities and equipment we have to offer at great pricing and in a central location" said Jose Luya, President and CEO of Multi Media.
The studio is perfect for the production of commercials, webcasts, corporate & training videos and much more. For a full list of the rental equipment, production services and studio features, make sure to check out the new site!
If you would like any further information or have absolutely any questions please contact us at 954-433-0988.