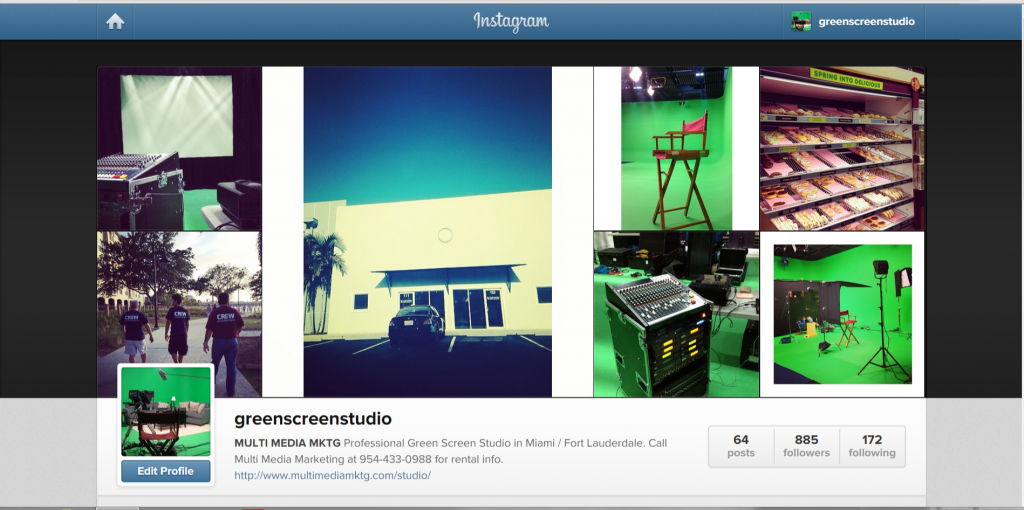 Somewhere in between work and life...we forgot to mention we're on Instagram! Who isn't?! Follow us at @greenscreenstudio for behind-the-scenes photos. You'll see why our clients use our studio space for their projects, fun travel photos from on-location productions, and other fun pics of the team doing what we do best – work hard!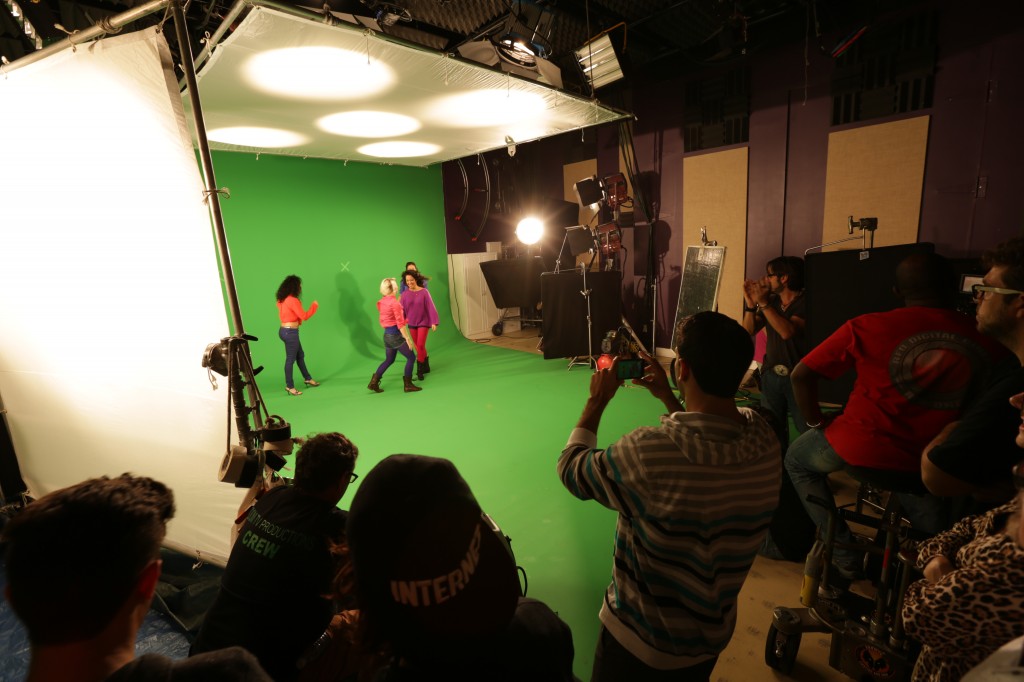 In the past year, our Green Screen Studio has been rented more and more by out-of-state video/film professionals. When looking through our bookings, we were surprised to realize that the bulk of our customers were coming from California, New York, and Colorado. We even had customers from Europe and South America. While we're thrilled with our clientele, we have to ask ourselves – where is the love South Florida? It's not been as easy as we thought to spread the word in our own backyard. Our efforts to market through more traditional mediums (direct mail, open houses, social media, cold calls, etc.) were disappointing. But we're not giving up! We are still on the lookout to assist producers and directors in Miami, Fort Lauderdale, West Palm Beach and the Florida Keys who need a superb green screen studio.
Our 1,200 sq. ft. Green Screen Studio is a great space to create commercials, training videos, music videos and more! It features a 14' cyc wall, make-up station, dressing room, lounge, kitchen, large conference room, WiFi access, and most importantly…ample parking. The bay door into the Green Screen Studio provides easy entry access for cars, boats and large props. It's also the perfect virtual studio space to hold castings, film TV pilots, capture corporate podcasts and more. Explore the studio with behind the scenes footage, or give us a call at (954) 433-0988 to set-up your own private tour.
Visit the studio website for more information on studio rates, gear and equipment rental.
Don't forget to follow the Studio on Instagram!
Our production team just wrapped a two-day shoot, with five actors, for an outreach video that depicts the permitting process, told from the perspective of four permittees and one host.  The fictional permittees featured in the video ranged from a banker to an architect to a home owner.  The vision is to depict these characters in their own respective environments (i.e. office, home, etc.).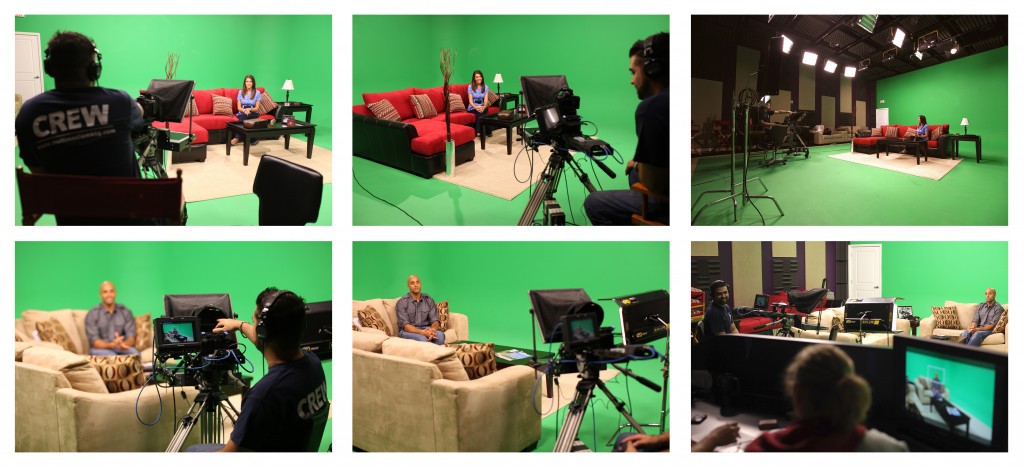 To achieve this, the actors were shot in both our production offices and in our 1,200 square foot green-screen production studio.   The office scenes were shot in our staff offices; while the living room scenes, with real furniture and props, was set-up on our green screen.   By shooting in this manner, it allowed us complete control of the lighting, sound and ultimately the environment.
Specifically with the green screen set-up, the final footage of the living room will be composited into an actual designed room, created in our 3D software by our designer, which will allow us to change the depth, the color, and the layout of the room, as we desire.
It's really nice to have the creative freedom associated with an in-house production studio.
The results are in for the 32nd Annual Telly Awards and the team at Multi Media is so excited to be a 2011 Bronze Telly Award Winner! The Telly Awards honor the very best local, regional and cable telev

ision commercials and programs, as well as the finest video and film productions and work created for the web.
The winning video, "Alien Invaders", is a fun educational piece on Aquatic Invasive Species and the importance of aquatic plant control in Florida.  Adam Alvarez, editor, decided to use a 1950s B movie treatment as the creative foundation for the video.  Adam shares, "I saw an opportunity in the 'Alien Invaders' story to have some fun with the overall style and theme.  Between the script and the illustrations, I was inspired to drive the video in this direction and I couldn't be more proud of the end result."
"It's always very rewarding when the client acknowledges your hard work and feels that you've exceeded all their expectations…which is always our goal." said Jose Luya, President and CEO of Multi Media Marketing.  Jose continued to share, "It is another really great accomplishment when your peers validate your work.  This award is a validation from the industry that our team delivers quality multimedia solutions."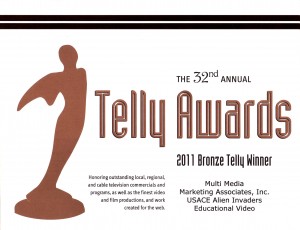 While our entire team helped to produce "Alien Invaders", we want to give a special shout out to the following integral people on this project:
Creative Direction & Editor: Adam Alvarez
Graphics: Josh Smith and Adriana Mazariegos
Camera Operator: Tony Morin
Talent: Lincoln Potwin
Owners: Jose & Maria Elena Luya
Created for the US Army Corps of Engineers
USACE Contributors: Adam Tarplee, John Kilpatrick, and the many biologists involved from the Jacksonville District
In an industry where we talk about creating linkable content that users like to share, video is that content.  Video is easy to spread, doesn't require people to actually read anything and the search engines love it.  Videos provide an interactive experience that attracts visitors to your website and your brand. By using videos, businesses can emphasize promotions, inform people on their services and products or set your website apart from others.
With video leaving its mark in the search results and on potential clients, it's vital that you're utilizing online video as efficiently as you can. Video is no longer only an add-on for internet-related companies. Today, any business concerned with conversion rates, SEO and brand identification should make video an essential component in their media plan.
"At Multi Media, we understand the importance of video presence online. We know how to create an effective and aesthetically pleasing video that will present your brand in a unique and inviting way." Said Jose Luya, President and CEO of Multi Media.
Are you wondering what it takes to make a successful video and how to get it done? This is where Multi Media steps in. With our 1,200 square foot green screen studio and extensive editing capabilities, the team at Multi Media can help you complete your online video from conception to completion. Whether it's a training video or, introductory message, Multi Media has the experience to deliver your project needs.
For additional information regarding the services we provide and how we can assist you please visit our website or call 954.433.0988.